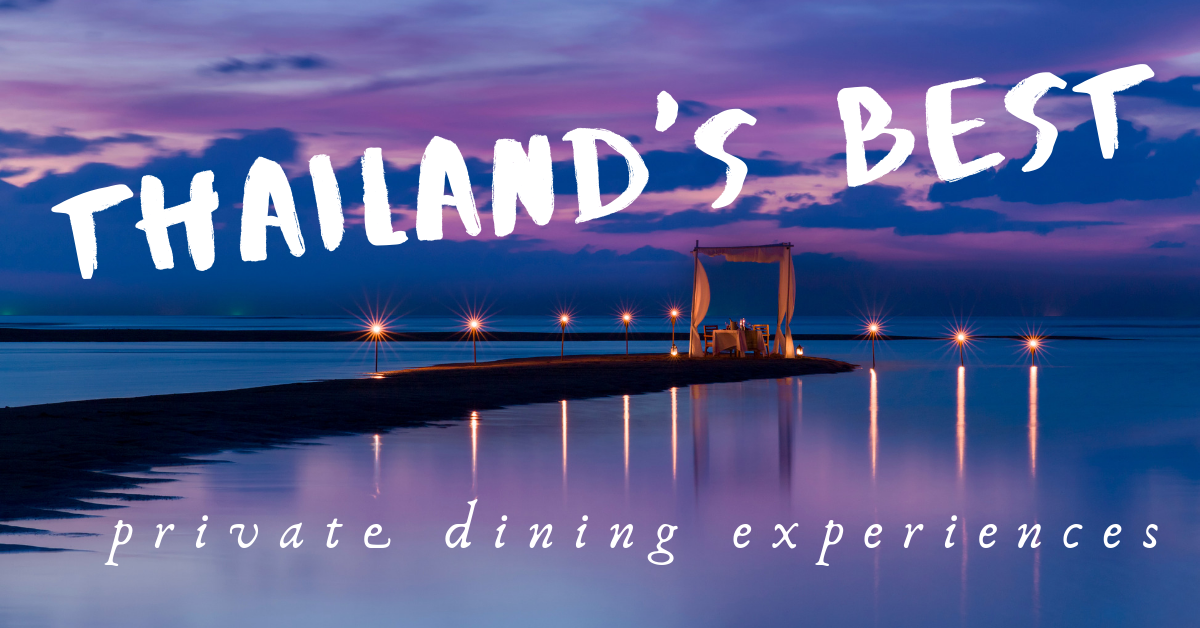 The Best Private Dining Experiences in Thailand
by Dean Horvath
in Thailand
Posted on

08/06/2019 17:25
Dining in Thailand comes in many forms. Some nights you'll find yourself in Bangkok's bustling Chinatown slurping down the best noodle soup you've ever had. You'll be sitting on a plastic chair that is surely designed for a five-year-old. The table height is just as low. It's also a little sweaty since this al-fresco dining situation is on the sidewalk with Bangkok life whizzing by not more than two meters away. But none of this matters because this is the best bowl of noodle soup you've ever tasted. On the flip slide, during your time in Thailand you can dine in the most luxurious and private locations you've ever seen. Candlelit dinners are lovely, but how about a private candlelit dinner next to a waterfall in the jungle? And I don't mean just a candle on your table. I'm talking about hundreds of candles surrounding you, illuminating the waterfall, the jungle, with a few larger torches bringing light to your table. The Sarojin Khao Lak Resort offers some of the coolest private dining experiences you'll ever encounter. The food selection throughout Thailand is worth the trip, but these memorable dining options will leave your taste buds and your heart in Thailand.
Dining options at The Sarojin
Once you've been led into the jungle and sat atop fluffy white pillows, take a second to marvel at the jungle surrounding you. The sound of the waterfall and the birds singing are the soundtrack for your dinner. Soon you'll be enjoying lobster from the Andaman Sea, Thai prawn soup, and of course, mango sticky rice for dessert, a must-try while in Thailand.
Get shipwrecked
If you're feeling more tropical than jungle, The Sarojin will happily accommodate. Go ahead and hop on the yacht that will take you to your own private island for dinner, themed "Shipwrecked in Style." Just you, your chosen dining companions, and an entirely private island with an uninterrupted 360° view of the Andaman Sea. Unlike if you were actually shipwrecked, there's no struggle for food here.
If you've ever watched Survivor, this is something out of the rewards challenge. When the designated winner gets whisked away for a night away from the game and dines on the highest-quality food in a luxurious beach setting while their fellow competitors eat rice and sit on damp logs at camp. Thankfully in this scenario, you are certainly the winner. The dinner menu includes Thai beef salad, roasted duck red curry, and fresh Thai fruits. This is one shipwreck I highly recommend being victim of.